Altria and Philip Morris International End Merger Discussions, Share 2019 Full-Year Guidance
Posted On September 25, 2019
---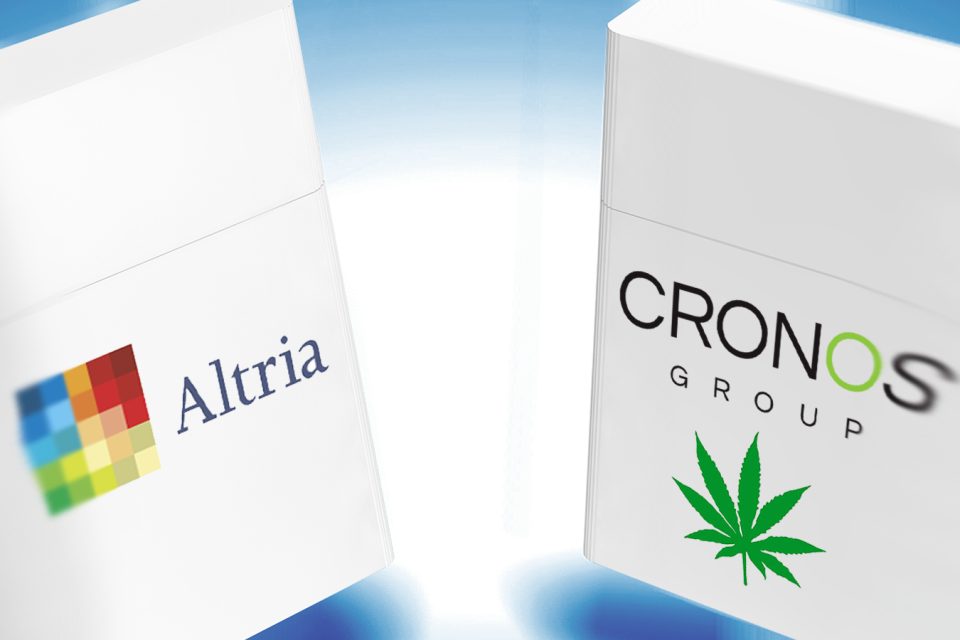 Altria Group, Inc. (Altria) (NYSE:MO), major equity investors in Cronos Group Inc., announced that merger discussions with Philip Morris International Inc. (PMI) (NYSE:PM) have ended.
Altria's wholly-owned subsidiaries include Philip Morris USA Inc. (PM USA), U.S. Smokeless Tobacco Company LLC (USSTC), John Middleton Co. (Middleton), Sherman Group Holdings, LLC and its subsidiaries (Nat Sherman), Ste. Michelle Wine Estates Ltd. (Ste. Michelle) and Philip Morris Capital Corporation (PMCC). Altria holds equity investments in Anheuser-Busch InBev SA/NV (ABI), JUUL Labs, Inc. (JUUL) and Cronos Group Inc. (Cronos).
The brand portfolios of Altria's tobacco operating companies include Marlboro®, Black & Mild®, Copenhagen® and Skoal®. Ste. Michelle produces and markets premium wines sold under various labels, including Chateau Ste. Michelle®, Columbia Crest®, 14 Hands® and Stag's Leap Wine Cellars™, and it imports and markets Antinori®, Champagne Nicolas Feuillatte™, and Villa Maria Estate™ products in the United States.
"While we believed the creation of a new merged company had the potential to create incremental revenue and cost synergies, we could not reach agreement," said Howard Willard, Altria's Chairman and Chief Executive Officer. "We look forward to continuing our commercialization of IQOS in the U.S. under our existing arrangement."
Altria Statement on JUUL Labs Leadership Change
JUUL announced the appointment of K.C. Crosthwaite as its Chief Executive Officer. Mr. Crosthwaite is stepping down from his position as Senior Vice President, Chief Strategy and Growth Officer of Altria in order to join JUUL. In response, Altria's Chairman and CEO Howard Willard said, "K.C. is a proven industry leader who understands the importance of responsible business practices. This decision by JUUL recognizes that this is a critical time for the company. I believe K.C.'s experience, discipline and dedication to making harm reduction an industry-wide reality will help JUUL achieve its mission, while also urgently confronting and reversing underage use of vapor products."
2019 Full-Year Guidance
Altria tightens its guidance for 2019 full-year adjusted diluted EPS to a range of $4.19 to $4.27 from a range of $4.15 to $4.27. The new range represents a growth rate of 5% to 7% from an adjusted diluted EPS base of $3.99 in 2018. This guidance range excludes the special items for the first half of 2019 shown in Schedule 1 and additional estimated per share charges of: (i) $0.02 of tax expense resulting from the Tax Cuts and Jobs Act related to a tax basis adjustment to Altria's ABI investment and (ii) $0.01 in charges associated with the cost reduction program announced in December 2018.
Altria reaffirms its 2019 domestic cigarette industry volume decline rate estimate to be in a range of -5% to -6%. Altria's full-year adjusted diluted EPS guidance excludes the impact of certain income and expense items that management believes are not part of underlying operations. These items may include, for example, restructuring charges, asset impairment charges, acquisition-related costs, gain/loss on ABI/SABMiller plc (SABMiller) business combination, ABI-related special items, Cronos-related special items, certain tax items, charges associated with tobacco and health litigation items, and resolutions of certain non-participating manufacturer (NPM) adjustment disputes under the Master Settlement Agreement (such dispute resolutions are referred to as NPM Adjustment Items).
Altria's management cannot estimate on a forward-looking basis the impact of certain income and expense items, including those items noted in the preceding paragraph, on its reported diluted EPS because these items, which could be significant, may be infrequent, are difficult to predict and may be highly variable. As a result, Altria does not provide a corresponding U.S. generally accepted accounting principles (GAAP) measure for, or reconciliation to, its adjusted diluted EPS guidance.
---
You may also like